Help
---
Account
Change your details
You can change all of the information we hold about you by logging in and visiting the 'My Account' page. Please note, these changes will only take effect on orders placed after the information has changed.
Forgotten login details
If you have forgotten your username or password, you can reset them here.
Delivery
With the different types of products that we sell, there are different pricing and dispatch times. Please choose an order type for more information.
Bespoke
Deliveries of orders placed through our Kit Designer will be made to the address specified on your account, unless you specify otherwise. We aim to deliver our totally bespoke products within 8 weeks from the date that your order is confirmed.
Delivery for kit designer orders to be delivered to NZ will cost $20 if the value of the order is below $3,000. For orders over $3,000, delivery is free.
Orders placed from outside of NZ will incur additional delivery charges, which will be charged at cost.
If the orders are from the Pacific Islands, no GST will be charged. Freight will be quoted before the order is confirmed.
Stock
NZ Couriers deliver all of our stock orders once they are dispatched in NZ. Most stock comes from the UK and takes 8 working days to arrive. If you require a logo to be applied, please allow 2 weeks for the stock order.
Please be aware that someone will need to sign for your item. NZ Couriers usually deliver between 9am and 5pm, Monday to Friday.
The delivery charges will vary depending on your delivery address.
Personalised
Orders for any stock that you have personalised (including university items) will be delivered within 2 weeks. At peak times, this may be longer. All items will be delivered together, unless we inform you otherwise.
Please be aware that someone will need to sign for your item; NZ Couriers will usually deliver between 9am and 5pm, Monday to Friday.
Countries we dispatch to
Europe: Belgium, Czech Republic, Cyprus, Denmark, Estonia, Finland, France, Germany, Greece, Hungary, Ireland, Italy, Latvia, Lithuania, Luxembourg, Malta, Monaco, Netherlands, Norway, Poland, Portugal, Republic of Ireland, San Marino, Slovakia, Slovenia, Spain, Sweden, Switzerland, Turkey, United Kingdom
Americas: Canada, Chile, Puerto Rico, United States, Venezuela
Asia: Bahrain, Brunei, China, India, Japan, Jordan, Kuwait, Malaysia, Oman, Philippines, Qatar, Saudi Arabia, Singapore, Thailand, United Arab Emirates
Rest of the World: Australia, Egypt, New Zealand, South Africa
Change your delivery address
If you would like to change your delivery address, please fill in the contact form and a member of the team will then get back to you in order to confirm your changes.
Orders
Payment
Accepted payment methods
We are able to accept the below payment methods through our website: Visa, Visa Debit, Visa Electron, MasterCard, Maestro. For offline orders, we can also accept BACS or cheque.
Personalisation
Logo application types
Your logo can be added to any item using print, sublimation or embroidery, depending on the product.
Embroidery: A traditional embroidered logo is ideal for leisurewear, but may damage more delicate fabrics.
Sublimation: If you're thinking of getting a sublimated kit, your logo can be printed directly onto the garment at no extra cost.
Print: Printing your logo onto your team's kit is great alternative to embroidery. It is lightweight and printed onto the fabric.
Uploading your logo
To preview your logo on your design, upload a .jpeg, .png, or .gif file. Depending on your file format, your logo may have a background colour, this is for illustration purposes only and will be confirmed after submitting your order.
We recommend uploading supporting files to ensure we are able to recreate your logo accurately. Where possible, please attach one of the following formats: .eps, .ai, .jpeg, .png, .gif, .pdf.
Note: we cannot take responsibility for the reproduction of artwork that has been supplied in any other format than stated above.
Product
Size Guide
All values are based on body measurements, with the exception of the inside leg, which is a garment measurement. Actual garment measurements will depend upon the fit of the specific product. For more information please see our fit guide.
Product Fit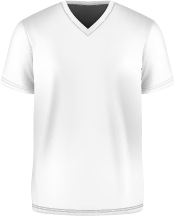 Regular (Classic) fit
---
A traditional, standard cut for enhanced range of motion and an effortlessly relaxed fit.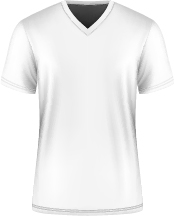 Athletic fit
---
A slimmer, tighter cut that delivers optimal mobility by eliminating the bulk of extra fabric.
Other fits
---
There are a wider range of fitting options to choose from for bespoke garments.
The garment measurements for bespoke garments may vary dependent upon the sport the garment is intended for.
Product Care
Each of our garments contain a wash care label which lets you know how best to look after your kit. Make sure to check this label and follow it carefully to ensure a longer garment life span.
If you have any queries about caring for your kit at any time, please contact us.
General rules
There are some general rules which will help when caring for your kit.
Do not wash your kit above 40 degrees, some fabrics require extra care and should be washed at 30 degrees. (fabric's containing elastane, and Rip Stop Polyester).
So that stains do not fix to the garment, playing kit needs to be washed as soon after play as is feasible.
Don't leave it in a kit bag to brew or dry out as it will be harder (or impossible!) to remove the stain once dry.
We would advise that heavily soiled kit has the surface dirt removed before washing in a machine (with a brush, hose or in a bucket of water).
Soaking the garment in water for a period prior to washing can help lift out stains. Using neat detergent or non-bleach stain remover can also help remove stubborn stains.
Do not tumble dry any kit – air dry and reshape whilst damp.
Do not pile up or fold garments whilst damp, this can cause colour transfer, and cause damage to logos.
Always wash socks separately, especially if they are darker than your kit.
Never iron printed logos as the heat can damage the embellishment.
On the reverse of the wash care label, further instructions are given and may include: Wash Separately, Mild Detergent, Do Not Bleach, Do Not Tumble Dry, Hang Dry, Warm Iron, Do Not Iron Prints, Iron Inside Out, Flat Dry.
Symbols
| | | |
| --- | --- | --- |
| Symbol | Definition | Description |
| | Machine Wash 30 Degrees | Water temperature should not exceed 30 degrees Centigrade. |
| | Machine Wash 40 Degrees | Water temperature should not exceed 40 degrees Centigrade. |
| | Do not Bleach | No bleach product may be used. The garment is not structurally able to withstand bleach. |
| | Do not Dry Clean | Garment may not be commercially dry cleaned. |
| | Iron, Low | Regular ironing with or without steam may be performed at a low setting only. |
Other product help

Sublimation

Sublimation is a method of applying a printed design to a garment. This gives you total freedom over the design and colour of your kit. All logos and sponsors are printed on at one time, meaning that you can have as many logos as you want at no extra cost.

Returns Returns Policy
Our returns policy varies dependent upon the type of products that you have ordered. Please see the below for more information on each type of order. None of the below affects your statutory rights.
Bespoke
If you've designed your own kit using our Kit Designer, we are only able to accept returns in the event of a manufacturing error. This error must be reported and returned within 28 days of delivery.
Personalised
If you have personalised any stock item, adding your team logo for instance, we are only able to accept returns in the event of a manufacturing error. This error must be reported and returned within 28 days of delivery.
Stock
If your order has been placed from stock, with no additions or modifications, we are able to accept returns within 28 days of delivery if the garments are in their original condition with all labels, tags and bags intact. Any garments returned outside of this time will not be accepted.
Return your item
We've simplified our returns process, to make it easier for you. Please ensure that you follow these steps, as failure to do so may cause delay or non-acceptance of a return. For more information, please see our Terms & Conditions.
Step 1 | Set up your return with customer services
It's simple and easy to do this, either use the contact form or call our dedicated customer services team using the details below.
Step 2 | Fill in the returns form
Customer services will provide you with a form, if not, you can download it using the link below.
Step 3 | Post your items back to us
Please make sure that you enclose the returns form, as we will not be able to accept the return without this. We also recommend that you use a tracked mail service, in case your parcel gets lost.
Note: To ensure the health and safety of our staff, goods must be returned in an unsoiled condition. Please ensure that all goods are washed prior to returning them.
Your return postage will be reimbursed only in the event of a manufacturing error, to the maximum value of £8 UK mainland and £25 internationally.
Returns address:
Kukri Sports NZ Ltd
Unit 2
45 The Boulevard
Te Rapa Park
Hamilton 3200
New Zealand
Once you have sent the parcel back to us, you don't need to do anything else. We will process the return and arrange your exchange and/or refund within 15 working days.
Any other questions
If you haven't found the information you needed, or require further help, please contact us.